I've made no secret on this blog of my love of Doctor Doom. He is, in fact, the awesomest villain of all time. (This is a Fact. Don't dispute me on it. You'll be Wrong. All Hail Doom!)
One of the things that makes him so awesome? Even when wearing a mask made of solid metal, he can easily convey the depth of his emotions. Metal yields to the strength of his will!
And Doom? He is a man of many, many emotions. Some people make the mistake of thinking that his only emotions are anger, furor, and ire but that's just not true. Our Once and Future Overlord is capable of of feeling feelings much, much deeper than that.
To get a glimpse into Doctor Doom's soul, one needs to look no further than Fantastic Four #16 (July 1963)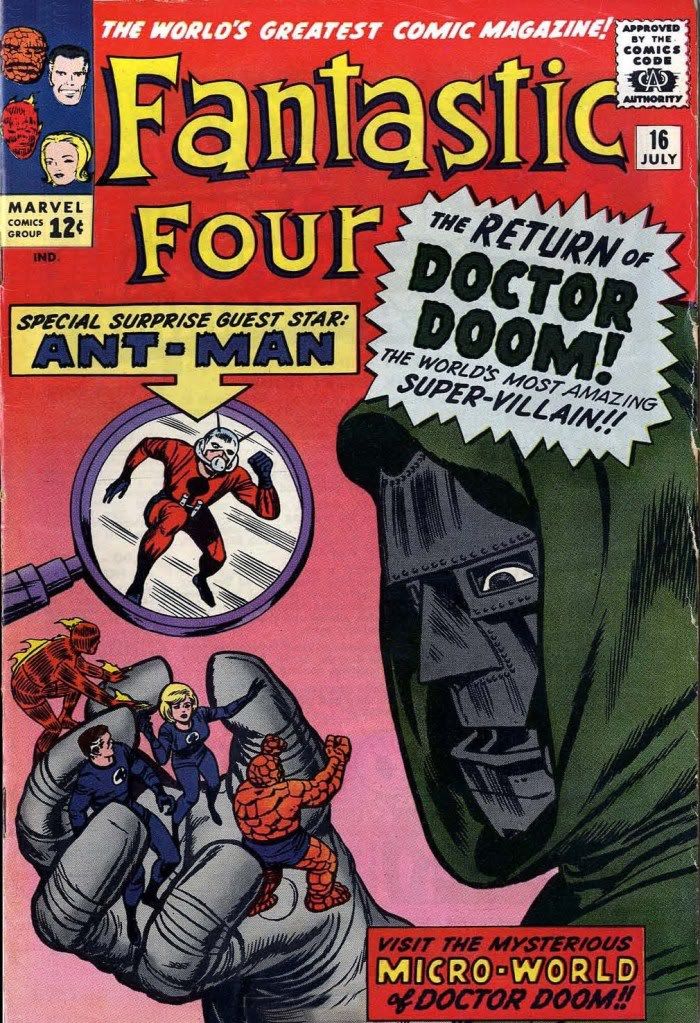 See! It says he's the "most amazing" right there on the cover. That makes it a FACT!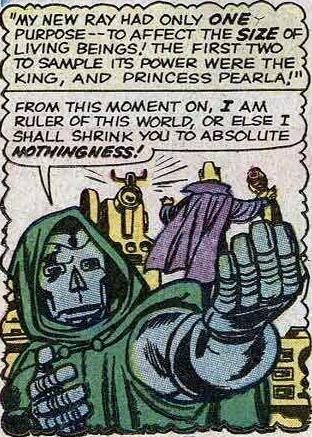 WISTFUL
Doom has dreams. He has hopes and desires. Sometimes that dream is grand, such as finally destroying that infernal Reed Richards. But sometimes, it's a smaller, simpler dream. Like making his cape from a fabric that never wrinkles, or shrinking his enemies into nothingness. For Doom, there's nothing quite like indulging in a daydream when it feels as if he's holding it there, right in the palm of his hand.

BOASTFUL
Doom knows he's better than everyone else. (Especially that infernal Reed Richards…) He doesn't need to have his plans fall perfectly into place in order to feel fulfilled as a villain and a man. But when those plans do fall into place, well, Doom has every right to boast! After all, he is smarter than you. All of you. You should feel honored to get to bask in the glory of Doom! Not everyone gets the opportunity to hear the tales of Doom's greatness. Some people are just sent to Latverian prison.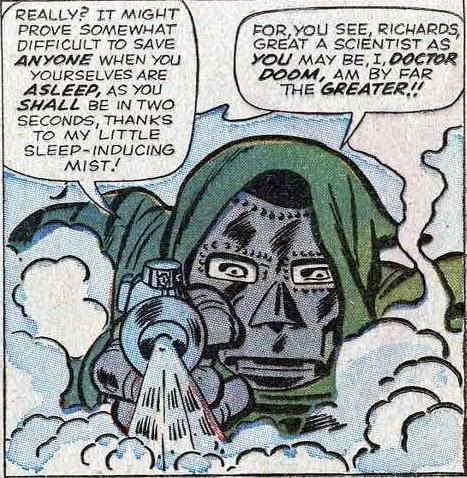 EXCITED
Some people make the mistake of believing Doom doesn't know how to have fun, but that simply isn't the case. Doom has many hobbies he enjoys, some that don't even involve plotting against that infernal Reed Richards! It's a well-documented fact that Doom involves poking insolent peasants with pitchforks, writing op-ed pieces for the national Latverian newspaper about how amazing our Lord Doom is, and evil gardening. But his true passion is, of course, science. Nothing, nothing makes Doom more excited than performing feats of scientific excellence. (Except maybe when he's performing those feats of scientific excellence to show up that infernal Reed Richards. That's the very best.)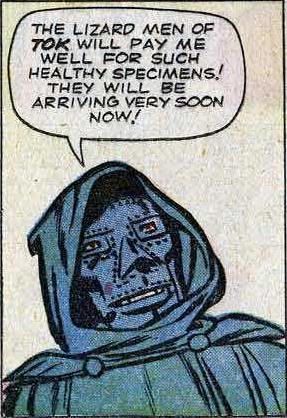 BLISSFUL
Another misconception about Doom is that he's never happy. This also isn't true. Doom knows happiness, the likes of which pathetic weaklings such as yourself can never fully comprehend. He will know sheer bliss unlike any this puny world has ever seen before the day he finally destroys that infernal Reed Richards. But until that day, he can settle for the bliss he feels when taking piles of small, unmarked bills from lizard men. (Or when he eats a cupcake. Doom does enjoy a good cupcake.)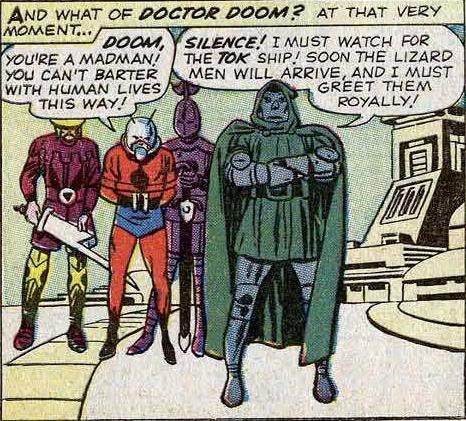 IRKED
This is an emotion of Doom's we're all familiar with. Many people might believe this is Doom's default emotion, but it's not his fault – inferior people are irksome to Doom, and, well, everyone is inferior (especially that infernal Reed Richards)! You cannot possibly expect him to respond without at least mild annoyance when pathetic, lesser creatures like Ant-Man dare to call him mad when he's busy waiting for lizard men. Doom is a busy man, and you're bothering him with your incessant prattling!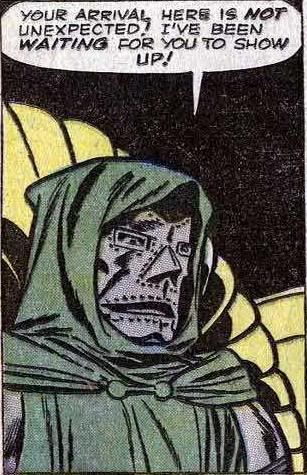 DISAPPROVING
You know, lizard men, Doom is a busy man. He's been waiting for hours, forcing Latverian peasants to slave over hot stoves to prepare a welcoming feast, and you made him wait. He would expect that sort of thing from that infernal Reed Richards, but from you? Doom really expected better from you. He'll let you slide this one time, since Doom is nothing if not generous (also, because you're arriving with big bags of cash), but don't disappoint Doom again. Next time, he'll do more than disapprove. He'll destroy.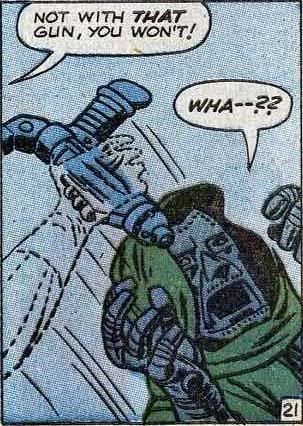 FLUMMOXED
In his own mind, Doom is not often bested. (That infernal Reed Richards only wins by cheating, just so you know.) But when it does happen, it is nothing, if not flummoxing. After all, Doom is the smartest and the greatest. He puts his plans together carefully, and backs them up with science! Doom never fails. It must've been the fault of those lizard men. Yes, the lizard men are to blame. Doom is not flummoxed by a defeat that's his fault. He's flummoxed at how full of absolute stupidity lizard men can be! (Doom's note to self: Destroy all lizard men.)

DISTRAUGHT
Doom has feelings. Deep feelings that can be wounded. If you drill through his metal exterior and manage to pierce his skin (given that he's not, in fact, a Doombot), does he not bleed? Why are you pathetic weaklings (especially you, infernal Reed Richards!) always so hurtful? All he wants to do is rule you with an iron fist, and you have to ruin all of his dreams. It's like you don't even care! Doom knows you're probably too much of an ungrateful wretch to even deserve being his oppressed subject, but he's generous enough to overlook that and rule you anyway. Just as soon as he finishes eating this tub of ice cream.
So there you have it, everyone. Just a few of the many moods of the great Doctor Doom. These merely skim the top of the well of his emotional soul, but at least now, we can all begin to fully appreciate the man who lives behind the mask.
(Fantastic Four #16: Script by Stan Lee, pencils by Jack Kirby, and inking by Dick Ayers)