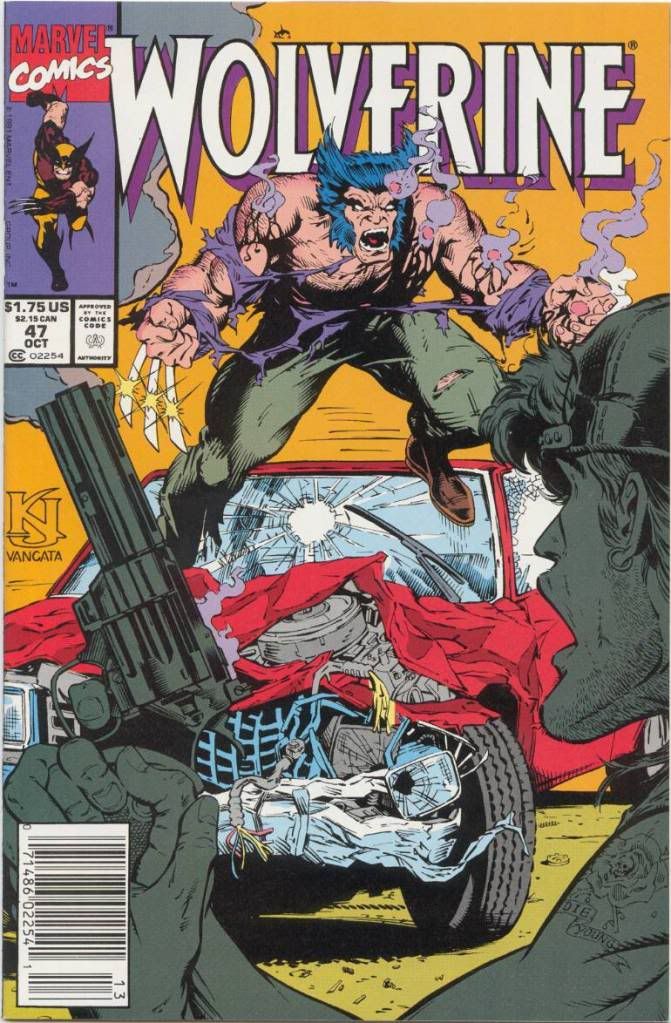 Let me begin by saying this: I certainly understand the need for trying to teach the young people to be productive members of society and not drug-addled burnouts. However, quite often when you attempt to turn entertainment into a PSA, it quickly moves away from a sobering look at a serious issue and into unintentional hilarity. Written by Larry Hama and penciled by Gerald DeCaire, Wolverine #47 (Oct. 1991) falls pretty squarely into the second category, coming across like a modern-day version of Reefer Madness. With Wolverine. And rabid dogs. (It's also a little hard to take any anti-drug story seriously that non-ironically uses the phrase "dope fiend.")
It opens with Wolverine retrieving his motorcycle where it's been illegally parked for weeks. A meter maid (who Wolverine is rather shamelessly checking out) has wanted nothing more than to tow it, but running the plates got her in trouble with S.H.I.E.L.D. who told her to use "discretion" when dealing with the issue. She wants to know who this "N.F.N. Logan" is and what makes him think he can simply park there indefinitely when parking is at a premium in New York. Simple, lady. Wolverine is such a dick he doesn't care who he inconveniences, as long as he can park his motorcycle for as long as he wants to in Downtown NYC. Or, as he puts it:

Whine, whine, whine…
For reasons NO ONE could ever understand, the meter maid seems to find his story incredibly charming, and gives him a flirtatious little smile as she tears up the ticket, tells him to watch where he parks next time, and walks away. Maybe this was supposed to be our first look at what drugs can do to your brain, because this woman is clearly on something if that's her reaction to this story.
However, we'll never get to learn if she's on drugs or really just has a fetish for men in horrible green shirts, because the comic then cuts to a woman coming home in Salem Center, NY, groceries in hand. She opens the door to find her son, Tracy, there to steal her VCR despite the fact she "has a court order." Tracy, however, doesn't care about society and its laws. Or the fact his father recently suffered a fatal heart attack because the strain (read: embarrassment) of having Tracy as a son was just too much.

You know he's rebellious because he wears his hat backwards.
Well, Tracy's mother is having none of that, no sir. She lets Tracy know that he will not be stealing any more of her things to fence for drug money. Because he's not her little Tracykins anymore. And possibly because he's a zombie.

I can tell you where you went wrong, lady. It was when you started calling him "Tracykins."
Mother Tracykins runs for her gun and waves it at her son, yelling that she will in fact "wound him" if she has to. Her son is not at all impressed as he holds his hand out for the gun asking her to "Give the gun to Tracykins, Momsy." (These people have more problems than I thought.) Tracy then knocks Momsy to the ground, takes the gun, and begins to beat his own mother. She sobs, asking what she did to deserve this, to which he replies: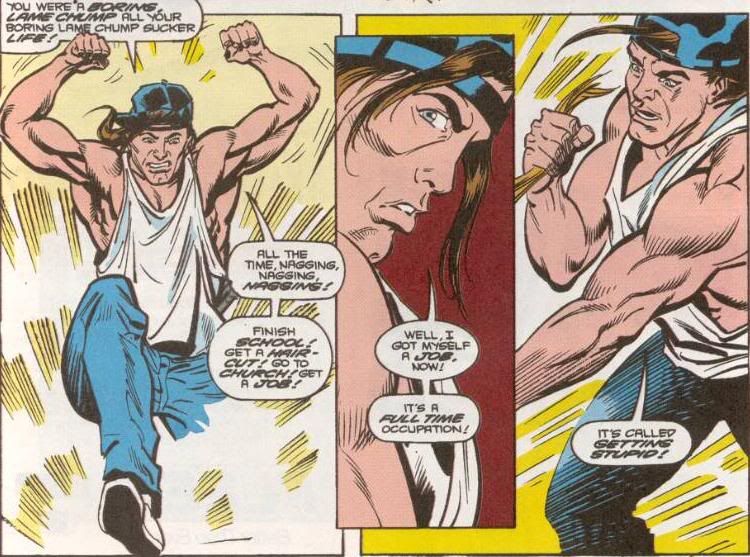 Tracy certainly has turned "getting stupid" into a full time job.
That's right, kids. Take drugs and you, too, will make it your occupation and be literally willing to step on your own mother's head to get what you want. Remember that.
We then leave Lil' Tracykins to continue brutally beating his mother off panel and rejoin Wolverine, right as he approaches, well, this: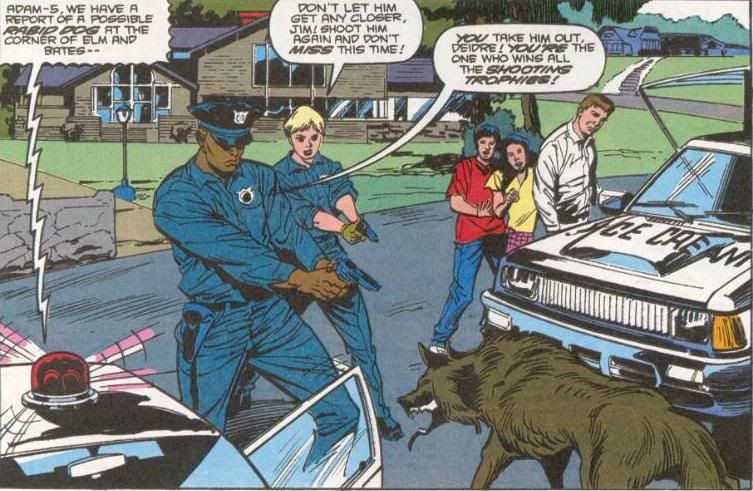 PUPPY JUST WANTS ICE CREAM!
Wolverine stops and looks into the dogs eyes moments before the cop shoots it, and offers us this little tidbit: "The dog is foamin' at the mouth… But he ain't so far gone he don't know what's comin'. Inside, behind all that craziness there's somethin' whimperin' and waitin' for the pain to stop." Because the rabid dog totally realizes he's about to get shot and that isn't Wolverine projecting his own issues on to the animal or anything. Wolverine knows what's it's like to be a rabid dog, deep down inside. He knows.
Once the dog is dead, Wolverine walks up to the blonde female cop who was the one who ultimately pulled the trigger and chastises her for the number of bullets she shot, calling it "excessive force." Instead of just telling him to fuck off with his creepy self (like I would've done, personally), she explains that she did what she needed to do to protect the children.  She then adds she isn't sure she'd be able to do the same thing, were it her own dog, named Sandy. She then asks Wolverine if he has a dog, too. He replies with a far away look and says, "I had one… ….A long time ago…"
We don't get to learn what happened to his dog yet (smart money's on rabies, though), because we're taken back to Tracy, whose mother is in ICU and yet he remains free to roam the streets in her car. He goes to the convenience store where he used to work, armed with his mother's gun and ready to do some damage.

Ouch. That's harsh, Tracykins.
Mr. Singh (understandably) immediately tells Tracy to leave the store because seriously, fuck that guy. The redhead in the back, Tiffany, also tells him to get out, yelling that he has some nerve treating Mr. Singh that way. Especially after he hired him after knowing he'd been to rehab. Also, he's a "dope fiend." (I told you it was in there.) Tracy has an answer for that, however. He's just there to get what he's owed, because Mr. Singh is a foreigner, and all money really belongs to Americans. Drugs make you racist, too! (Also, it seems that his current occupation of "getting stupid" doesn't pay too well.)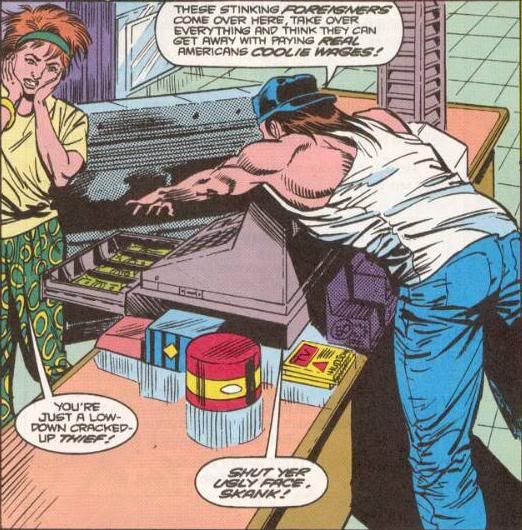 To be fair, Tiffany is totally wearing skank pants.
Mr. Singh doesn't agree with Tracy's assertion that he's only paid him "coolie wages," and lunges at him while calling him a "bummer." Tracy yells that Mr. Singh can't even curse correctly in English, but in all fairness to Mr. Singh, Tracy is a bummer. Seriously, just looking at this guy and his bad 90's comics hair and backwards hat makes me severely bummed out.
Tracy decides to bum everyone out a little more, however, by gunning down both Mr. Singh and Tiffany in cold blood.
From there we cut back to Wolverine and what that cop has wrought by asking him if he ever had a dog. (Damn her and her big mouth!) Wolverine is now riding along on his motorcycle, flashing back to the days when he did in fact have a dog. (Can I just take a moment to say for a man who supposedly had almost no memories for a while, he sure did have a hell of a lot of flashbacks…) He remembers when his dog, Blue, was missing for a week and how his girlfriend, Silver Fox told him dogs just have to go off and have doggie alone time sometimes so they can feel wild again (just like Wolverine!!!).
However, when Blue does come back, we find out that a need for alone time was not what kept him away.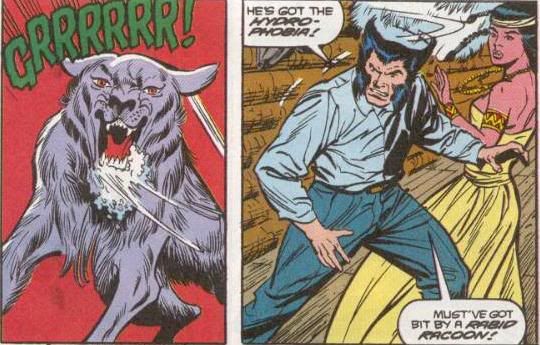 "He's got the hydrophobia" is my new catchphrase.
Blue was rabid! Who could've ever seen that coming! (Me.) Silver Fox, quite sanely, gets the rifle and tells Logan he needs to put the dog down before it bites them. Now, I know it's tragic, and no one ever wants to have to shoot their dog in the head, but it's got rabies. There's no coming back from that. You gotta do what you gotta do, man.
We don't, however, see if Logan is able to pull the trigger, because the story then cuts back to Tracy, who has since left the scene of his latest crime and is in the process of committing yet another one.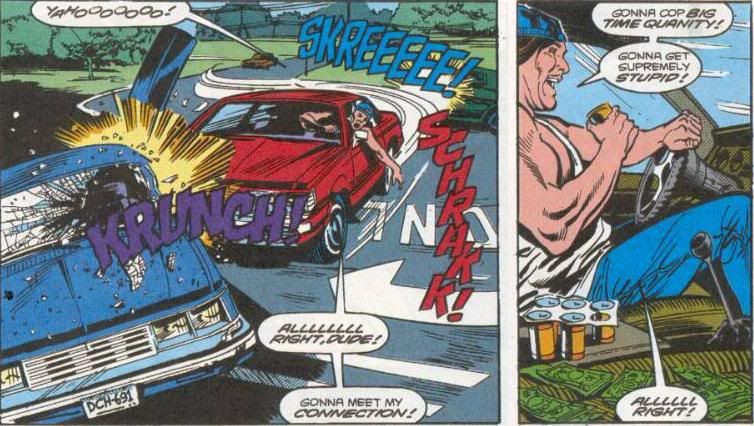 Scratch that. My new catchphrase is "Gonna get supremely stupid!"
So now Tracy has robbed and beaten his own mother, robbed a convenience store, shot two people, caused a traffic collision, and is courting a DUI. Is there any way this could possibly get any worse?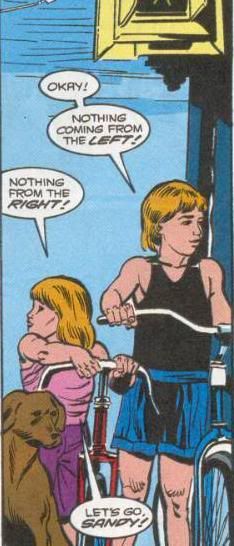 Oh, hell.
Now, it seemed a little superfluous at the time when that cop lady told Wolverine her dog was named Sandy, but now I realize it wasn't. Two blond children with a dog named Sandy – it's cop lady's kids. And Crazy Tracy is driving right to them. I sense disaster.
Meanwhile, oblivious (not like he'd care, really) to the pending doom of small children, Tracy continues to drive erratically while slamming back cheap beer and making references to Star Trek. (Yes, nerds, this can happen to anyone. EVEN YOU.) He's got places to be! He's on his way to find his "main man" and find out if he has any "truly righteous face-melting mind altering substances" that I assume make you stupid(er). He is clearly stopping for no one, not even small children and their adorable dog.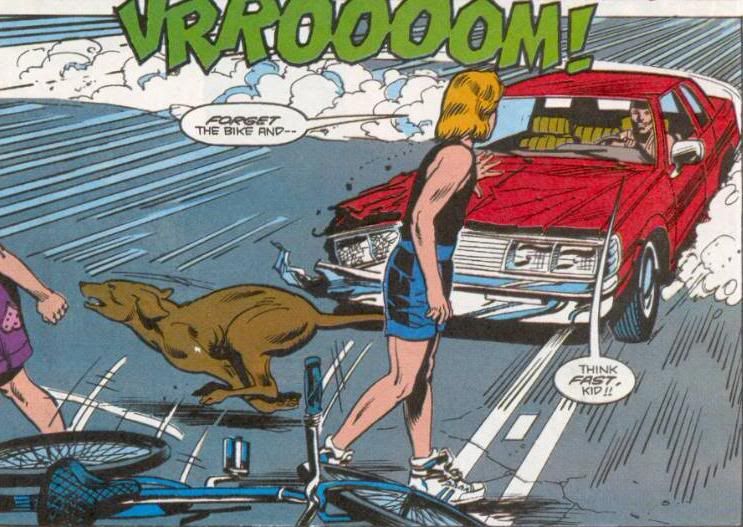 I can't stop looking at that look of glee on Tracykins' face as he guns it for the children…
We don't see what happens to the kids, however, because the comic immediately cuts to further up the road, as Tracy pulls up to a stoplight next to Wolverine. Our two plots have finally converged! Now why Tracy would be willing to slam into another car and possibly mow over children but would still stop at a red light is not full explained. I'm going to guess it's because Wolverine is so weird looking, he'd make anyone stop. Even a "dope fiend" out to get "supremely stupid."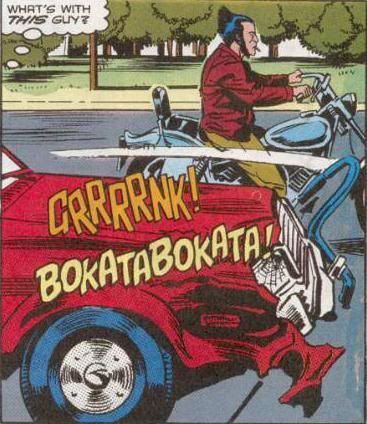 You're not the first person to ask that, Tracy.
Tracy fears that Wolverine might be a cop because he has the look of a man who "don't take no guff." He panics that Wolverine will see him and know what he's been up to, and sweats as he waits for the light to turn green. Because again, don't stop for kids crossing the street, but by all means, obey the traffic laws.
As the light does turn green, however, Tracy becomes convinced that Wolverine (who, I'll point out, has actually not even looked at Tracy, presumably because he's too busy mourning the loss of his long-dead rabid dog) has seen the kid's bike stuck to the grill of his car. He decides to handle this problem by mowing Wolverine over with his car.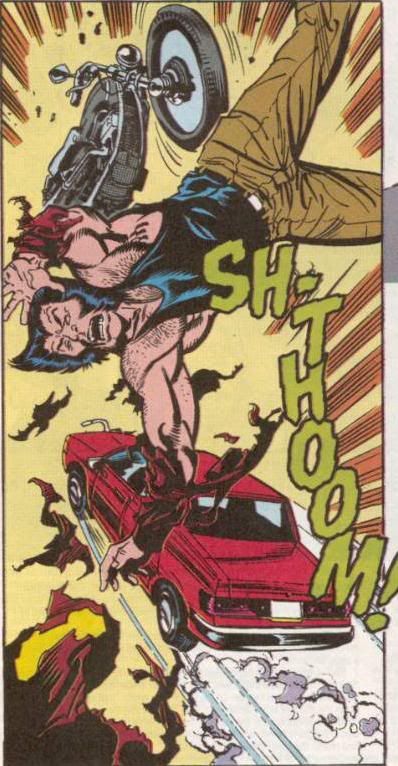 Notice how his jacket is shredded, but everything else remains intact.
Then, Tracy proceeds to put the car into reverse and runs over Wolverine again. This time, Wolverine jumps on the car and rips off a big chunk with his claws. Tracy finally gets out and yells about Wolverine being like one of those "Halloween slasher guys who keep coming back to life after they've croaked." Then, he shoots at him.
Wolverine, being Wolverine, doesn't flinch. He'd probably be more surprised if he went a whole day where someone didn't shoot him.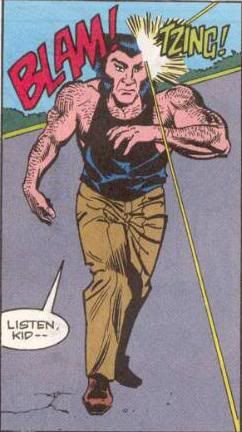 It's not his bones deflecting the bullets. It's the product in his hair.
As Tracy runs out of bullets, Wolverine pops out his claws. He yells at Tracy, asking if those bike parts in his grill means he "mowed down some poor mother's darlin' baby and kept right on drivin' down the road" and where all that money came from. But then, he flashes back to Silver Fox as she yelled at him to put Blue down and "put him out of his pain."
He can't kill Tracy. He can't! He's just like poor Blue! Wolverine retracts his claws and literally throws his arm to his forehead dramatically.

Wolverine goes for the Oscar gold.
However, it seems like someone else didn't get the memo that Tracy's gun was out of bullets, and he's shot down in a hail of gunfire. He falls to the ground at Wolverine's feet and dies while gripping on to his pants leg.
The shooter? The same cop who shot the dog at the beginning. Her kids are thankfully (miraculously) safe in the back of her squad car, but she wasn't about to take any chances with a "slime bucket" who almost killed them and did kill two people in a convenience store.
He had to be put down. Just like a rabid dog! I get it now! It's all been one long metaphor!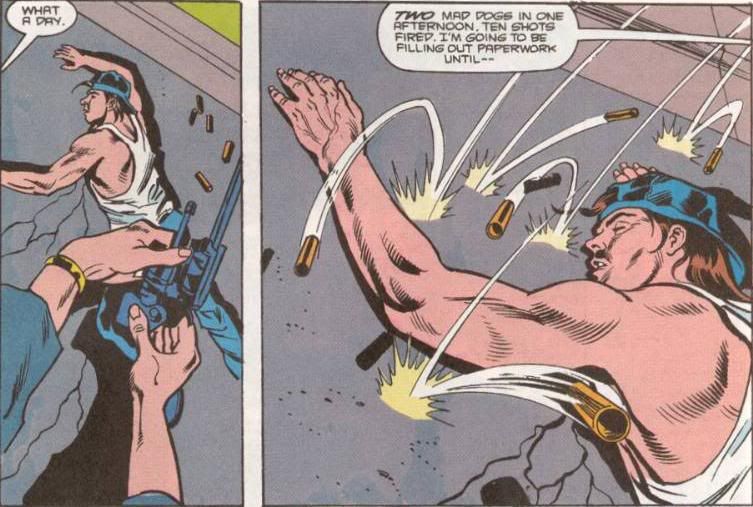 I feel ya, lady. Paperwork's a bitch.
Wolverine, however, can relate to the rabid dogs of the world. He knows what it's like to snarl and foam at the mouth, when deep down inside you just want the pain to end.
So whatever happened to Blue? Did Wolverine finally man up and put him down like the rabid dog he literally was?
Nope.

If I was that cop, that maniacal look on his face would make me nervous…
So what have we learned here today, kids? Drugs make you stupid and only cold-hearted bitches have what it takes to put down rabid dogs?
Yup, sounds about right to me.